Mon-Sat, 8.00-18.00. Sunday CLOSED
Marketing In The Virtual World
There was a time when we had to roam all day to buy goods and sometimes we did not get any goods. Both our time and energy were wasted. But what could we do, we had no other option. If you look at the business man's perspective the reach of traditional marketing was not enough to attract the attention of people. So he had to confine the business to a specific geographical area only. But everything changed with time. Technology has improved and all work started going digital even the markets. We shifted from physical markets to virtual markets. No worries whether it's raining outside or it's too sunny, we can shop anytime. Life has become easier due to the virtual marketing. So, let's study in detail about it.
What is the concept of virtual marketing?
Virtual marketing can be used to describe online marketing/advertising. It includes formats like email marketing, social media marketing, blogs, contents, and other digital formats. The business is conducted via the internet and does not have physical premises to interact with customers. It does not involve any face to face conversation. More and more businesses are relying on virtual marketing.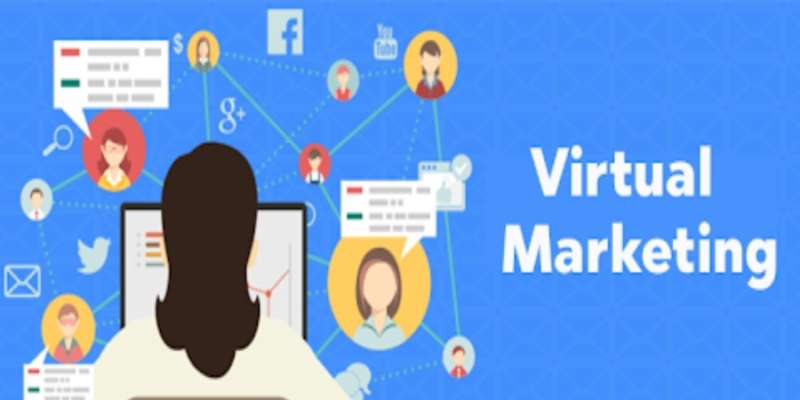 Advantages of virtual marketing
• Cost-efficient
• Involves flexibility
• Beneficial to small businesses
• Global reach to customers
• Does not require any huge office space
• Broaden your scope
• Easy to set up
• Easy to expand
Virtual Marketing vs. Traditional Marketing
Virtual marketing:
• Presence of virtual market
• Great exposure
• Time saving
• Low cost
• No fixed time for selling
• Global reach
• Includes content marketing, SMM, email marketing and many more
Traditional marketing:
• Presence of physical market
• Doesn't allow exposure
• Time consuming
• High cost
• Fixed time for selling
• Reach to the specific region only
• Includes promotions, exhibitions, PR, etc
Effective methods for virtual marketing
• Search engine optimization (SEO) – it helps to make your site more attractive by making certain changes to your website design and content.
• Social media marketing (SMM) – it is a marketing tactic that indulges the use of various social media platforms such as Face book, Instagram, Twitter, and many more to connect with millions of users globally to increase sales and promoting the brand.
• Podcasting – it is a technique that allows the users (internet) to download audio files to their computer or mobile device from a podcasting website.
• Content marketing – it is a form of marketing strategy/tactics that focuses on creating and publishing useful, valuable and relevant content to attract a targeted audience online with the aim of achieving the goal and expanding the customer base.
• Affiliate marketing – it is just like influencer marketing and depends on the influence of people to bring in sales and includes various influencer campaigns.
• Email marketing – it is a fast and cost-effective method of marketing that allows us to reach new customers by encouraging repeat website visits. It keeps the customer informed and updated about your brand.
• Social media – in today's time social media is one of the effective ways to reach millions of users. It has become an important platform for brand promotions, targeting audiences, and many more.
As observed various small and large businesses are relying on virtual marketing. They are creating pages on Facebook and Instagram also have contests and giveaways. This has helped them in creating more customers. The virtual market is growing eventually and has created lots of opportunities globally.
Marketing is not the art of finding clever ways to dispose of what you make. It is the art of creating genuine customer value.
-Philip Kotler
References:
https://www.quora.com/What-is-the-future-of-virtual-marketing
Digital marketing is that component of selling that utilizes the internet and online-based digital technologies for example desktop computers, mobile phones and other digital media and platforms to in...
Businesses need to look beyond the hype and develop their own perspectives on the value of e-commerce, thinking carefully and weighing all the advantages and disadvantages – backed by good market re...
In simple words, we can call an E-Mall, an online shopping center with a collection of multiple online shops on a single platform. All the transactions from selecting the goods to buying and selling o...
Sign up for email alerts
Stay current with our latest insights