Mon-Sat, 8.00-18.00. Sunday CLOSED
Artificial Intelligence: Becoming a boon of Retail Sector
"AI has been powering retail for years, and retailers have only been scratching the surface of what's possible. A combination of the right solutions and an intelligent approach to adoption and data management will help all retailers reap the benefits of AI."
- Geoff Hueter, CTO, Certona
Artificial Intelligence establishing a new Empire in the Retail sectors. Ai is powering every personalized shopping and customer experiences. The survey says that, "After 50 years there will not be any business without software." Humans are mean to make mistakes but technologies are made to create accuracies and Business won't be able to make Data- driven decisions without the AI. The power of Al is access to analytic data for retailers to enhance their services. It involves the retailer in control by giving them more information and offers retailers to driven the insights of Customer behaviours.
https://coresight.com/research/ai-in-retail-putting-new-tools-in-the-hands-of-retailers/
The key to success for retailers will the ability of Artificial Intelligence of extracting the meaning from the big data to solve problems and give rise to increase in productivity
Real- Time Application of Artificial Intelligence in Retail
AI is creating an opportunity for retailers to build the bridge between the virtual and physical sales channels. Brands are running for AI to reduce cost, improve efficiency, achieve operational agility and increase the speed of decision making in the world of retails.
According to IBM's recent study, AI-driven intelligent automation in the retail and consumer products industries is projected to leap from 40 percent of companies today to more than 80 percent in the next three years.
Following are some examples of Brands of Retail sectors adopting the AI to enhance their business:
• McDonald's Drive through smart voice assistant.
• Domino's Pizza – Delivery by a pizza robot.
• Nestlé's – Voice cooking Instructions to the cook by Al
• Olay- To use AI personalize Skincare.
• Mango and Vodafone- Smart digital dressing rooms.
McDonald – Drive through Smart Voice Assistant
McDonald, worlds most wanted restaurant, known for the services and complete satisfying its customers, quickly moved into the era of Artificial Intelligence to enhance in offering more satisfying customer services.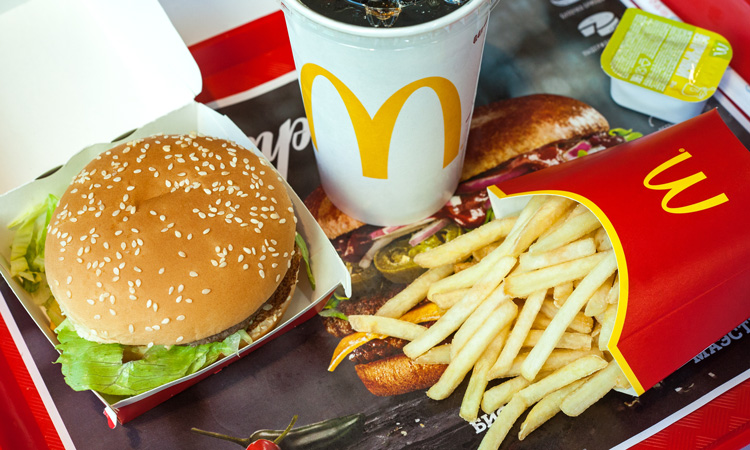 https://www.newfoodmagazine.com/article/94705/mcdonalds-joins-the-plant-revolution/
They installed a voice based platform for multilingual, multi- item communicable ordering. In this the "Sound to meaning" methodology is used via Al which transcribe the speech signals directly to results. This leads to faster the process of ordering by queuing the placement of orders as per real time.
Domino's -Pizza Delivery by a Pizza robot
The cravings for Pizza starts just by listening the name of Domino's Pizzas. Home delivering of Pizza has spoiled the enjoyment of having pizza just came from ovens.
https://couponswala.com/blog/dominos-pizza-online-order/
But now not so worries Domino's is ready with the solution. Domino's recently adopted the new concept of DRU i.e. Domino's Robotic Unit. They have built an AI based robot that can deliver hot, bubbling cheese Pizzas at your doorsteps.
Nestlé's – Voice cooking Instructions to the cook by Al
Nestlé's GoodNes Skills for Alexa has establish a platform to connect peoples with the perfect recipes and gives step by step instructions along the way and enables a better visual guide through voice browsing experiences.
http://r3future40.com/project/mobiquity/
Olay- AI personalize Skincare.
Olay is offering AI powered skin Advisor, an online advisor which relies on artificial intelligence and deep learning. It analyses customer's skincare at very granular level. A simple makeup less selfie is an input to analyse the skin type or problems minutely and then a small questionnaire with user results to get best recommendations for the skin types.
https://www.trendhunter.com/trends/olay-skin-advisor
Mango and Vodafone- Smart digital dressing rooms.
For the selection of perfect one, we struggles with many outfits and trying them back to back causes more trouble. Since The Mango and Vodafone brings a new concept of Digital Changing room. Thanks to AI for offering many opportunities to change drastically many outfits. In this it creates our virtual mirror that scans one's body to get the perfect fit and suit clothes. After the finalization of your ideal outfit it directly contacts to the shop assistant who receives your request according to the real time on digital watches.
The concept of digital fitting room uses an Internet of Things (IoT) digital mirrors was designed by Mango and developed by Vodafone with the collaboration of Jogotech. This digital fitting room are another steps of transforming the traditional store into digital stores to create a whole new experience for the customers.
http://www.gadgetsboy.co.uk/digital-fitting-room-vodafone-mango/
As the Al is allowing the retailers to urge their desires in the business world. Artificial Intelligence today, brought more fragmentation and competition than ever before. Artificial Intelligence is revolutionizing the retail sector by making the industries more cost efficient which will deliver personalized, immersive optimized services to every customers.

"AI is an engine that is poised to drive the future of retail to all-new destinations. The key to success is the ability to extract meaning from big data to solve problems and increase productivity."
- Azadeh Yazdan, director of business development, AI Products Group
Multimedia is the use of a computer to present and combine a variety of content and material forms such as texts, audio or visuals, or even pictographic or images or animations (GIFs) and more. Howeve...
Machine learning is the branch of science where computers act without being explicitly programmed. It is a concept which you use every day without even knowing about it. It is a subset of Artificial I...
Cyber Law is the law made by the government for illegal actions. It includes computers, networks, software, storage devices, Internet, websites, emails, mobile phones, ATM machines, etc. It is related...
Sign up for email alerts
Stay current with our latest insights