Mon-Sat, 8.00-18.00. Sunday CLOSED
Enterprise Resource Planning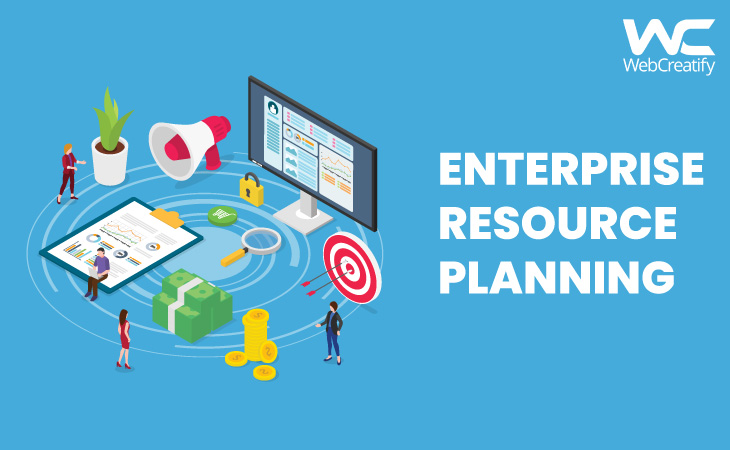 Enterprise Resource Planning (ERP) is a computer-based software that allows an organization to use its applications to manage the business. It is a system that identifies, plans wide resources to make, ship, and account for customer orders. It manages internal and external resources. It combines traditional methods into logically integrated applications.
ERP is a software which is used for larger business and requires committed team members to analyze the data working in real-time and update it. It is also used for small business purposes. ERP provides specific software solutions in a single database for planning, development, manufacturing, sales, marketing which increases productivity. This software is used by companies to manage important work of business. ERP process has the ability to combine all the processes which are needed to run a company. ERP software offers remote-based access anywhere at any time. If the company fails to implement ERP software, then it can be ineffective.

fig.no.1.Benifit of Automating ERP system(mydbsync.com)
ERP software needs a committee's team to adapt the changes, analyze data, update it, and deploy it. ERP software has replaced homegrown systems, accounting software. Every module of ERP is based on a business process like marketing. The most important thing in ERP is a single database that supports many functions of different units. Like accounting and sales both are accessible on ERP. It reduces manual work. The order department can process orders accurately. For the finance department, ERP made accounting easy. It provides a portal for employees such that they understand the business quickly.
History :

ERP software came into existence in 1990 by Gartner. Earlier, it was designed for inventory management and for controlling the manufacturing sector. And then ERP started with the schedule production process for MRP[Material Requirements Planning]. These systems have expanded their functions day by day and now it is used in service industries, hospitals, healthcare, banks, government sectors, financial services.
ERP for business :

ERP system has made business more time-efficient and increased productivity by eliminating duplicate entries. It also handles front office functions like E-commerce, marketing, wholesale distribution, Sales Force Automation(SFA). SAAS(Software As Service) is a cloud computing concept that has made ERP software easy to maintain, implement, manage, and affordable. SAAS has enabled Business Intelligence through which employees can access to correct information so that they can make decisions efficiently. Many companies across the world are using Cloud ERP systems. It has reduced the cost of doing business. It has made it easy for the business team to collaborate with a third party. It keeps data in a secure manner. It improves return in a great way on the investments.

Implementation of ERP :

1. Gain approval.

It is a document or a case study that must include problems, description, scope, costs, schedule, risks issues, benefits. Then, this document is handed over to senior executives to implement ERP.

2. Planning.
The schedule which was decided is converted into a work plan. In this phase, team members are finalized with external partners, specialists, technical specialists. Planning the hardware requirements like infrastructure, faster processors. Tasks must be distributed to all the team members in this phase.

3. Configure software.

This is the most difficult and lengthiest phase. Analyzing the gaps, changing the business process to confirm software, configure parameters, complete programming checking the quality of data, documentation, testing the systems is done in this phase.
4. Deploy the system.
Once the system is produced, multiple activities have to be completed which includes training staff to operate the system, planning support team to resolve problems, test the system for security, proper responses, switch from old system to a new system.
fig.no.2.ERP software(imimg.com)
Benefits of ERP software :
Customer web portal :

It enables access to the company's information for clients so they can get the necessary customer information on time. For example order history, customer account information, shipping addresses, past invoices, credits, credit limits, and many other resources.
CRM and sales :

In the sales department, earlier there were risks to pay the price. But now, these risks are reduced. ERP eliminates duplicate data entries, reduces training overheads. In Customer Relationship Management ERP has enabled faster access, increased mobility, retrieve information quickly.
Distribution Process Management.
ERP software eliminates delays from order placement to product delivery, which can help a distribution company fulfill requests more efficiently. An ERP system can also track products, provide faster service, accurate delivery which improves customer satisfaction. All the information available is updated in real-time. The power of real-time data allows for cost control across your supply and distribution chain. ERP software provides better sales management.

Manufacturing Companies.

ERP for the manufacturing process allows department heads to manage data from external parties to enhance decision-making efforts. It processes data in real-time. Cloud ERP and mobile ERP improves productivity within the enterprise. ERP for manufacturing companies increases productivity and profitability while keeping the end customers.

Finance Department.

ERP in the finance department improves performance, accounting is done accurately, provides the facility of procure-to-pay and order-to-cash, certify financial reporting, reduces time and cost, all possible errors are removed, gains strong tax control.

Conclusion :

Implementation of ERP is a strategic decision, involving significant resources. The use of Enterprise Resource Planning software allows companies to decrease the time it takes the company to get paid for its goods or services after the sale. ERP is also a fact of life across broader business communities.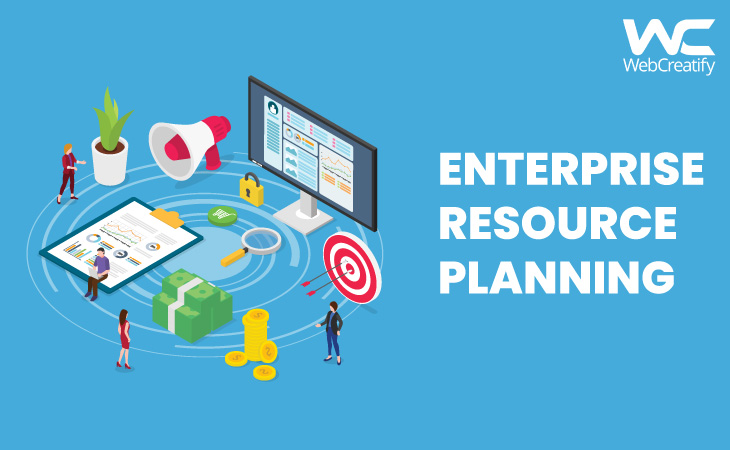 Enterprise Resource Planning (ERP) is a computer-based software that allows an organization to use its applications to manage the business. It is a system that identifies, plans wide resources to mak...
As India is a developing country, so it's also adapting the digital era in every day-to-day element. While shopping we come across different payment methods and sometimes we may get confused to c...
Sign up for email alerts
Stay current with our latest insights